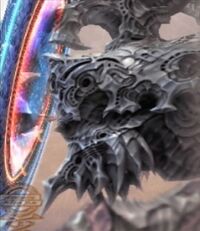 That was title of the petition for the Elite Mark Yiazmat. Indeed it was a legend. It took me 10 hours and 8 rounds to finish off this monster. And I'm on Level 96. It could have been shorter if I had known he can regenerate its lifebar if you let him recast all its buffs. (Make sure when you see him casting
Faith
to immediately debuff him with
Dispel
.)
Anyways, Yiazmat has 50 million HPs at Level 73, which is equivalent to 50 full screen boss bars. You can escape the Coliseum at
Ridorana Cataract
anytime to save your accomplishment just make sure he hasn't casted any buffs. It took me long enough but it really paid off having to use
Shellga
everytime to avoid being instantly killed by
Death Strike
. I put Shellga as my second priority gambit for Vaan. Once you're Shelled, you can have at least one party member by the stairs to avoid being crushed by his
Rake
which hits as much as 12 times around 2k-3k damage each. He absorbs Holy so you can't attack him with
Excalibur
, but who says you can't
Telekinetically
attack him?
If his HP falls below half, damage will be capped at 6999. Once he reaches below a fourth of his life, around 12 bars left, he casts Growing Pains to double his level effectively diminishing any level gaps you had before it. And did I mention he's immune to stat-lowering skills except
Expose
? Make use of that as well. After a short time, maybe 2 if you are that good (unlike me who leaves the game running to discover my party leader is dead and the game is paused), you'll see him vanishing in green light. Get your reward from Montblanc afterwards.
WTF 30,000 gil?! I can earn that in 1 hour. Screw you moogles!
Good thing they threw in that Godslayer badge. Next step: Wyrmhero Blade! (Where shall I use this? The strongest enemy has already transmigrated.)
Trivia:
Yiazmat is named after one of the series director Yasumi Matsumoto. He lost lots of the Squenix finances so they gave him the boot. They named the strongest beast in memoriam.
My checklist:
FFX-2 - Trema - farewell (
thanks for the Iron Duke
)
FFX - Nemesis - missed (
I'm not good at the monster arena
)
FFIX - Ozma - farewell (
must. absorb. darkness.
)
FFVIII - Omega Weapon - farewell (
via Holy War boo!
)
FFVII - Ruby Weapon - missed (
where the hell in this gerdamn desert is it?!
)
FFVI - I can't remember any tough bosses here. (
Vanish+Doom boo more!
)
FFV - Omega - farewell (
Dancer+Redshoes+Thundaga sword
)
FFIV - Plague Horror - farewell - (
WTF Mega-Doom
)